WHO

IMTEK is a business consulting and systems integration company specializing in services and solutions for supply chain planning and execution including Kinaxis RapidResponse®️ and PlanetTogether®️.
WHAT

IMTEK is built around in-depth and diverse supply chain planning industry experience, partnering with clients to meet their needs and get maximum value from their investments.
HOW

We bring the right combination of business, functional, and technical expertise with a holistic approach for an optimized digital transformation from requirements gathering, blueprinting, process design, change management, conceptual, functional, technical design and configuration, training, business user adoption, hypercare and sustainment.
INTELLIGENCE
Our team is comprised of highly intelligent consultants who are experts in their respective fields, providing our clients with innovative solutions and strategic insights that drive business success.
INTEGRITY
We believe that integrity is at the core of everything we do, and we hold ourselves to the highest ethical standards in our interactions with clients, colleagues, and the community.
MOTIVATION
We are passionate about helping our clients achieve their goals and are committed to delivering exceptional results through hard work, dedication, and a relentless pursuit of excellence.
TECHNOLOGY
Our cutting-edge technology solutions are designed to help our clients streamline their operations, improve efficiency, and stay ahead of the curve in an ever-evolving business landscape.

TEAMWORK
Collaboration is key to our success, and we work closely with our clients to build strong, productive relationships that foster teamwork and a shared sense of purpose.
EXPERIENCE
With years of experience in consulting across a variety of industries, our team has the knowledge and expertise to deliver robust innovative solutions that address our clients' unique challenges and opportunities.
KNOWLEDGE
We pride ourselves on staying up-to-date with the latest trends and best practices in our industry, and we leverage this knowledge to provide our clients with innovative solutions and insights that help them stay ahead of the trends.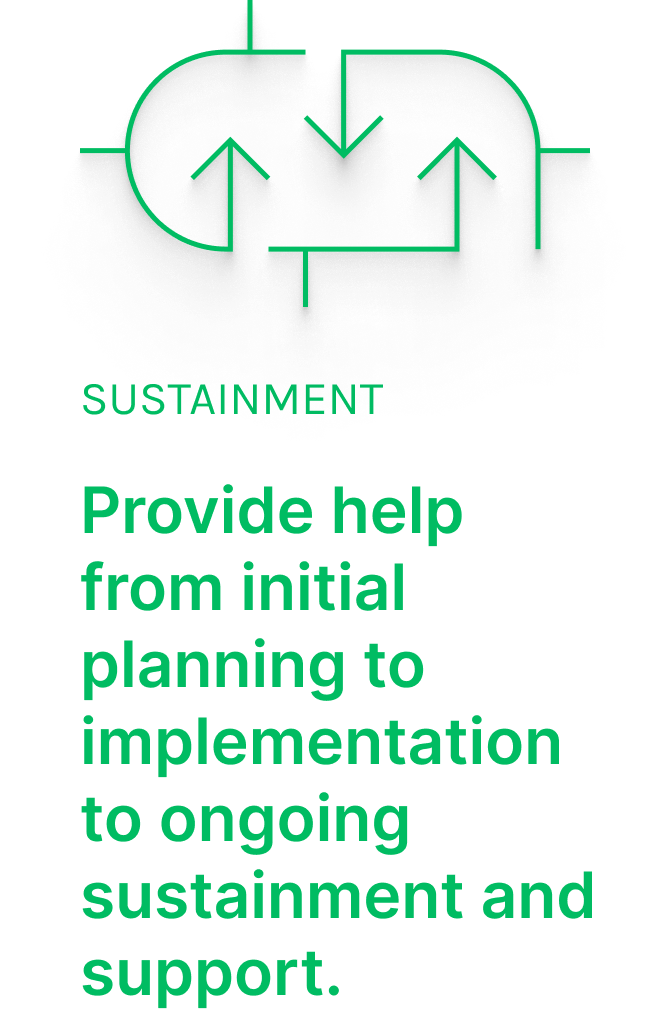 Our expert team of consultants will help you build a comprehensive roadmap for transforming your supply chain, starting with a thorough evaluation of your current systems and processes. We'll identify pain points, develop recommendations, and work closely with you to design a customized solution that meets your unique business needs. Our solution architecture services will set you on the path to supply chain optimization and success.
Our team will lead design workshops, gather requirements from stakeholders, and create a blueprint for implementing your supply chain solution. We'll identify gaps in your current systems and processes and develop a plan to address those gaps, including timelines, budgets, and resource requirements. With our design services, you'll have a clear roadmap to achieving your supply chain transformation goals.
We'll configure your system analytics to align with the functionality of your source systems, ensuring that you're able to generate the insights you need to make informed decisions. Our team will identify data sources, map data elements, and configure analytics to produce the desired output. With our solution configuration services, you'll have a system that's optimized for success.
Our experts will resolve complex data and analytic configurations to ensure that your solution is delivering the expected results. We'll make sure that all data sources are connected, data is mapped correctly, and the system is configured to generate the desired output. With our integration services, you can be confident that your solution is functioning as intended and delivering value to your business.
We'll provide ongoing support and maintenance of your solution, from initial planning to implementation and beyond. Our team will be there to help you troubleshoot issues, provide training, and upgrade your system as needed. With our sustainment services, you can be confident that your supply chain solution will continue to function effectively and deliver value to your business.
SUPPLY PLANNING

At our consulting firm, we specialize in supply planning optimization, leveraging RapidResponse software to help clients achieve efficient supply chain operations. Our team develops effective strategies that forecast demand, identify potential risks, and design procurement processes to ensure timely delivery.




DEMAND PLANNING

As part of our consulting services, we provide demand planning support to clients who use RapidResponse software. Our data-driven analysis and modeling techniques allow us to forecast future demand for their products or services, identify trends, and inform strategies to respond to changing demands.




INVENTORY PLANNING

Our consulting team specializes in optimizing inventory levels for clients who use RapidResponse software. By analyzing demand patterns, lead times, and supply chain constraints, we develop inventory optimization strategies and implement inventory tracking and management systems customized to their specific needs.




SALES & OPERATIONS PLANNING

We help clients implement integrated processes across different functions of the organization, aligning demand with supply, optimizing resource utilization, and improving customer service. Our sales and operations planning consulting service configures and implements RapidResponse software to achieve these objectives.




CAPACITY PLANNING
Our capacity planning consulting service helps clients optimize their production schedules, manage supply chain constraints, and analyze demand patterns. Using RapidResponse software, we identify bottlenecks, develop capacity expansion strategies, and optimize resource utilization to meet clients' capacity requirements.

AUTOMOTIVE
︎









Helping automotive manufacturers with their ever-changing global supply chain challenges to make sustainable choices
Enabling Carflow
from Manufacturig Sites to Distributers to Dealers.
Creating a Demand Forecast
that considers Total Industry Volume (TIV) and Segment Share.
Enabling Mix Management

where the total volume remains consistent while the variant mix could be modified.
Enabling Control Feature Forecasting and Planning
LIFE SCIENCES / PHARMA / MEDICAL DEVICES
︎
Helping innovators in life sciences by bringing visibility to their complex supply chain, which results in elevating the customer experience and avoiding excess/expired inventories
Jurisdictional Control (Market Regulations and Genealogy Restrictions)
Enabling Attribute-based Planning to match demand and supply without the burden of the large master data set.
Shelf-Life Management
Enabling expiry management to ensure the minimum shelf-life of a product is respected by the supplier.
Helping retail enterprises in increasing their efficiency by refining their promotion planning and inventory management through technological capabilities that offer more accurate forecasts and inventory allocation:
Enabling a demand forecast solution considering Sell Out and Sell Though data to generate a Sell In demand considering the Lead Times, Stock Policies and On hand at the Distributors and Customers
Assisting semiconductor foundries with their supply chain disruptions, short product life cycles, and excessive inventory by leveraging new technologies and skillsets that give them agility and flexibility.
Helping chemical companies and industrial manufacturing with their volatile demand, waste management, and supplier availability by providing them with global dashboards and what-if simulation capabilities.